So can someone enlighten me on fuel cells for stalkers?  The #154 I have has an aluminum gas tank;  not a fuel cell.  build pictures show a JAZ tank (
http://www471.pair.com/stalkerv/gallery2/main.php?g2_itemId=21675
) which was replaced with the current aluminum tank.  IIRC, the reason noted by the builder was sloshing of the fuel and starvation on track in corners.  So, my questions are:
1.  is the JAZ tank shown in that picture noted above the one supplied with the kit?
2.  Is it an SCCA road racing approved fuel cell?  I'm guessing not as foam is  a major requirement of any fuel cell and I would gather that foam was not in the JAZ tank if sloshing was the problem.
3.  What do you racers have for an SCCA tech'd fuel cell?
4.  Have you done any frame reinforcing in the back to better protect the fuel cell.?  
Thanks.
I talked to Scott about this when I was planning my build. He suggested either the Stalker custom aluminum tank or this RCI 2161A fuel cell from Summit -
bit.ly 1QHzhQB
Does your aluminum tank look like this (
http://www471.pair.com/stalkerv/gallery2/main.php?g2_itemId=29189
) ? If so it has baffles inside and a sump on the bottom but no foam.
I had them put the cross bars on the back of my car for carrying a spare wheel on the back. It gives a bit of added protection in the event of a rear end collision I guess.
-Dave

_________________
2015 Stalker Classic R/L26 in progress
2010 Triumph Bonneville T100
1977 MGB
1973 Norton Commando MkII Interstate
1966 SWB Land Rover Series 2A
1960 Hammond A100
1949 Ford 8N
yes Dave, I have the aluminum tank.  I think the builder said he got his kit right at the end of Dennis's run and before Scott made his changes.  But he wasn't happy with the JAZ tank he originally got and got this aluminum tank (presumably from Scott) because he thought it would reduce fuel starvation on track.  

BTW, my only track day so far showed that the car coughs badly from fuel starvation in tight corners if the gauge is below 1/2 tank.  

But fuel delivery aside, what I really need is a SCCA legal fuel cell which at the very minimum is a foam filled bladder.  For this location, I would need/expect a rigid outer container of steel or at least aluminum and a cost closer to $1000 rather than a few hundred.  

The Fuel Safe fuel cell for my Formula Mazda was $1700+ for just a foam filled bladder and no rigid container.  But the location was within a sheet metal enclosure under the roller hoop which served to be a seat back and a fire wall for the engine, so the structure was built in to the car.  The cost was high because these were  custom made just for the Formula Mazda.  

I'm giving my race car engineer buddy and his fabricator the task of finding a fuel cell that will work for delivery and safety.  

Thank you sir.  

PS.  I admire your work and attention to detail.

PSS: can you post some pics of the extra bars in the back for the spare tire? and how the spare will mount? I like the spare tire idea as some little bit of cushion in a rear end collision. I was thinking of a trailer hitch with a vertical tube that the spare could be mounted to which could be taken off for car shows and times when ultimate safety can be compromised.
This is all I have at the moment Ted, just these two cross pieces in the space at the back that would normally be empty. I haven't addressed the mechanics of how the wheel will attach yet but it will require fabricating a carrier that bolts to the cross pieces through the fiberglass on the back. From memory I'd say it was 1" square tubing. Hope that helps. I see your point about the fuel cell - no sense in having something that doesn't meet the SCCA regs. Hopefully others can chime in on that one.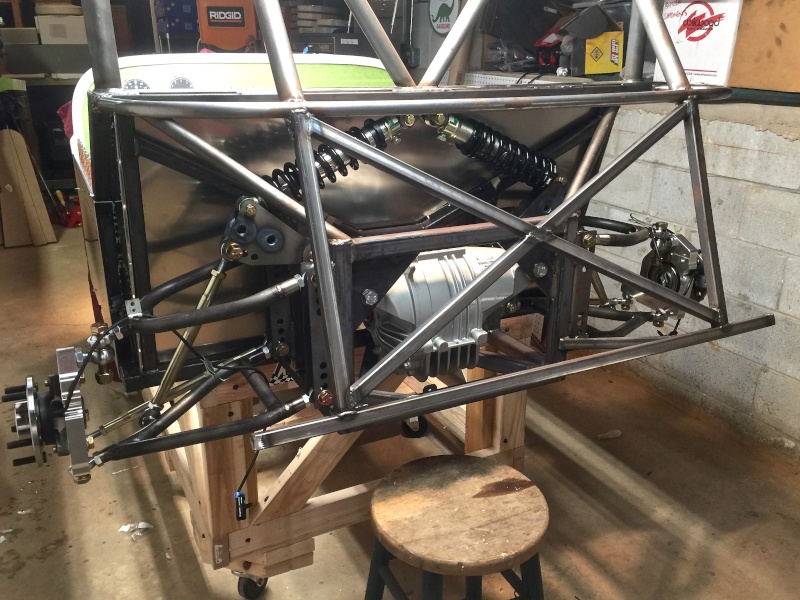 -Dave

_________________
2015 Stalker Classic R/L26 in progress
2010 Triumph Bonneville T100
1977 MGB
1973 Norton Commando MkII Interstate
1966 SWB Land Rover Series 2A
1960 Hammond A100
1949 Ford 8N
My car originally had an aluminum tank fabricated of what looked like 060 material. It had a sump that was about 4x6 and around 2" deep. It had a single hole of around 1 1/2" leading down to the sump which I thought would work pretty well but it didn't anything under 1/2 full and I get fuel starvation on the track. That tank split open at Sebring luckily it was on top so just a little fuel came out. I looked at a lot of fuel cells and I wasn't impressed most were thin without baffles or sumps. I've heard the foam is a problem it breaks down over time and clogs the filter. I'm running E85 so foam probably wasn't a good idea. I ended up making a tank out of 3/16" aluminum. I made it wider for a 17 gallon capacity put 4 baffles in it and made a larger sump with 2 entry holes. Now I've been on track with less than a 1/4 tank and don't get any fuel starvation. I don't think SCCA is going to require you to have a manufactured fuel cell I know NASA doesn't.

Brian

Brian Degulis




Posts

: 22


Join date

: 2015-06-10



thanks Dave.  My cage guy has some ideas that include maybe a bumper using 1.5" round stock (0.120")  We're mulling over ideas.  
Brian,  thanks for that info.  I scoured the SCCA regs and glanced at NASA  regs and was reasonably convinced I'd need one.  But then just looking at it and reading discussion on USA7's such as this:
http://www.usa7s.net/vb/showthread.php?8395-Tank-Protection&highlight=fuel+cell
I want one just for my own piece of mind as I'm more worried about everyday traffic than safety on track.  So the SCCA regs are not the driving force anymore.  
Side note:  there seems to be a lot of "fuel cell" labels on simple gas tanks for some reason.  I think ATL discusses that caution in their FAQ.
Edit:
http://www.usa7s.net/vb/showthread.php?2700-Crash-Safety-in-a-7&highlight=fuel+cell
the referenced thread should be a must read for any noobs who have not yet realized that a kit car like ours has some inherent 1960's safety problems that cannot be easily fixed. We must not forget we have a 4 wheeled motorcycle that requires the awareness, skill and luck of a race car driver to survive for any length of time.
I'm thinking that the only competitive class you would fit into with SCCA or NASA would be time trial not wheel to wheel racing and I'm 99% sure all you need is roll over protection for that. I could be wrong but that's my understanding. I very rarely drive my car on the street normally only to check things out before a track day. I feel a lot safer on the track. One of the biggest problems with street driving is other drivers getting so curious about this strange little go kart on steroids they're looking at you and not where they're going. Then there's crap on the road, bumps, crap falling off trucks and the outright frustration of not being able to let it loose. My car is heavily modified. I have an aluminum rear body section that's beefed up along with side bars and improved roll over protection, heavier lower control arms in the front with beefed up attachment points, built in fire protection and ever piece of personal safety gear available. So I think it's about as safe as an 1800 lb car with 500 HP to the ground can be. I'm married with 3 kids and sure there's a risk but like my dad used to say " living and being alive are two different things" In any case it sure gets my juices flowing Sebring this weekend can't wait.

Brian

Brian Degulis




Posts

: 22


Join date

: 2015-06-10



Thanks Brian, I agree about the risk assessment and what your dad said about living and being alive being 2 different things. Risk assessment has been a hilarious hot button with me for many many years.
I agree I can drive HPDE just as it is now. But since I'm adding the safety equipment for myself, I may as well find out what race class I'd be in. With the lean times and aging/retiring racer population (which I am one), I'm pretty sure both NASA and SCCA are now more hungry than ever to make room for just about any fast car that can be made "safe enough". And if a Caterham can enter and be 3rd at the 25 hours of Thunderhill, I know Jerry Kunsman of NASA here on the west coast would welcome me.
I posted the question in the Racing forum.
PS, If you can put a new motor in your car in less than a couple of weeks after a major blow up, you are hard core racing material. Well except for the all important young family.
A few weeks? I blew it up Sunday crate engine arrived Tuesday and I'm up and running on Friday. Now my work is not as neat and well planned as yours but yeah I'm addicted.


Brian

Brian Degulis




Posts

: 22


Join date

: 2015-06-10



Just a quick update on the final resolution. The car is not here right now, so I don't have any pics to show the details, but I had a "Caterham" model Fuel Safe cell put in. Fuel Safe did some custom plumbing for me at no charge. Took them awhile to get the shop drawings right and the thing built. Kind of like 2 months turn around after they told me "oh, 2 weeks or so." The tank is only 7.5 gallons and shaped for the Caterham. But it couldn't be much larger and still fit into the frame space available. I also got the surge tank "collector" with trap doors to avoid the starvation in corners supposedly down to the last few ounces.

For safety, my fabricator put in one more strut in the lower plane of the frame (there was one strut on the driver side at a 45 deg. angle going from near the diff to the left rear corner of the frame. But there was not one mirror image on the other side, so he added it.

He then put in a receiver for a small trailer hitch. He fabricated a 1.5" round stock vertical piece to plug into the receiver and added a plate that the spare tire attaches to. So, I'll use the spare tire and it's vertical support for extra crash cushioning of the fuel cell when I get rear ended by an SUV. I'll take the spare tire off at the track and leave the vertical support as a "bumper" in case I get rear ended by lighter/lower race cars on track.

Spendy but necessary for piece of mind.

LMK if you need pics; I'll take them later when the car is home. (It's in the shop for a misfire right now).
Similar topics
---
Permissions in this forum:
You
cannot
reply to topics in this forum