I think I've spent more time researching wheels and tires than I have on any other component of the build. It would be nice to be able to search by application but with no reference car to use for guidance, the whole process comes down to a lot of measuring, remeasuring and poking around on the internet for something that fits the bill.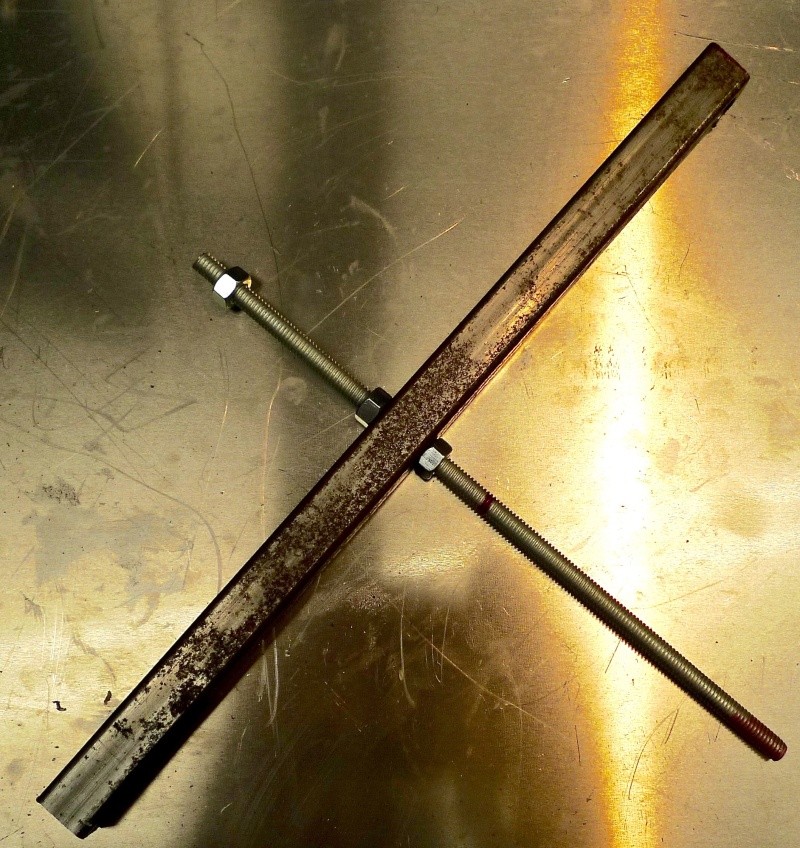 I read
here
about making a measuring tool to confirm offset and backspace. My version is set up for a 17" diameter wheel and I made the threaded part 10" wide - that's for a 9" rim plus allowance for a 10" section width on the tire.
The jig is set up for 25mm offset. With the fiberglass rear panel in place there's enough clearance for up to 5 7/8" backspacing. I made the same measurement at the front: a better offset for the front wheels in my case would be +35mm to align the center of the tire tread to the cycle fender, but +25mm will clear the fender bracket and there's some latitude in how the cycle fenders mount on the bracket so I can center them over the tread (PA inspection requirement is for the tread to be fully covered by the fender).
I cautiously ordered a wheel last Monday from nlmotoring.com to do a trial fit. This is an XXR530 17x8.25 +25mm offset with quite contemporary styling. This fits over the Wilwood caliper and the IPS brake caliper and leaves enough clearance for the tire. I will probably go with a 245/40R17 tire rather than the recommended 255; there's just so little space back there. The Toyo R1R Proxes tires I am eyeing up have a 9.6" section width which will fit that rear space, and the front cycle fenders will cover the entire tread (meeting the PA state requirement for fenders). The 255's are another 1/2 inch or so wider.
These wheels have a 73.1mm hub bore but the front and rear hub centers are different sizes on the Classic R. I ordered hub centric adapter rings in 70.4mm and 66.6mm sizes.
There's not a lot clearance back there and I don't want to use spacers. Even if I were to use them the PA state regs limit the maximum spacer size to 1/4". Note that all my heim joints are adjusted in as far as they will go. I can buy more clearance by adjusting them out if I really have to. I also checked my clearances with the suspension compressed; I did not note any problems.
Here's the same sized wheel bolted on the front. Clearances seem ok. So I think I'm going to pull the trigger on these wheels and order another 4 of them (I plan on carrying a spare at the back). I mulled over the styling for a while but I've decided I can live with them.
-Dave

_________________
2015 Stalker Classic R/L26 in progress
2010 Triumph Bonneville T100
1977 MGB
1973 Norton Commando MkII Interstate
1966 SWB Land Rover Series 2A
1960 Hammond A100
1949 Ford 8N



Posts

: 168


Join date

: 2015-10-07


Location

: New Hope, PA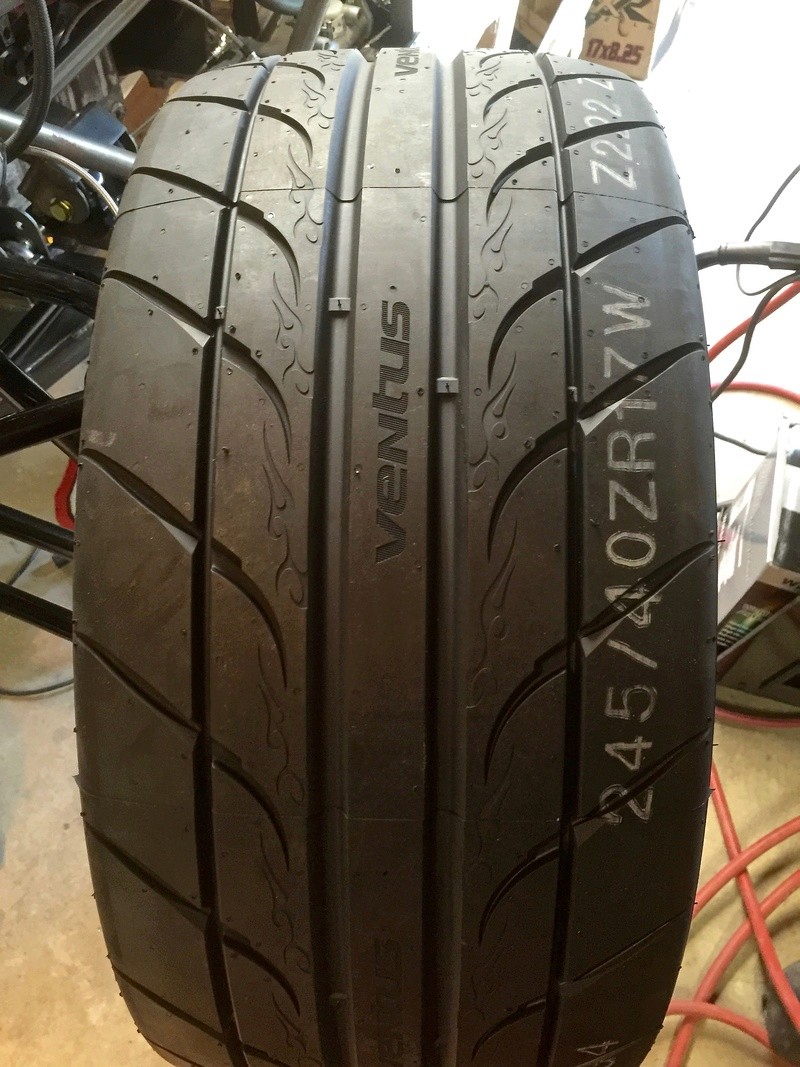 I made a decision on tires last week. I went with Hankook Ventus R-S3's in a 245/40R17 size instead of the Toyo R1R's that I'd considered previously, mostly on the basis of price and expected wear. These came from Tire Rack; I had them shipped to an installer right across the street from my office, which was awesome - in fact these are the same guys who will be doing the PA enhanced inspection once the car is built, so they were interested to hear how things were progressing. I dropped the rims off and picked them up mounted and balanced a few days later.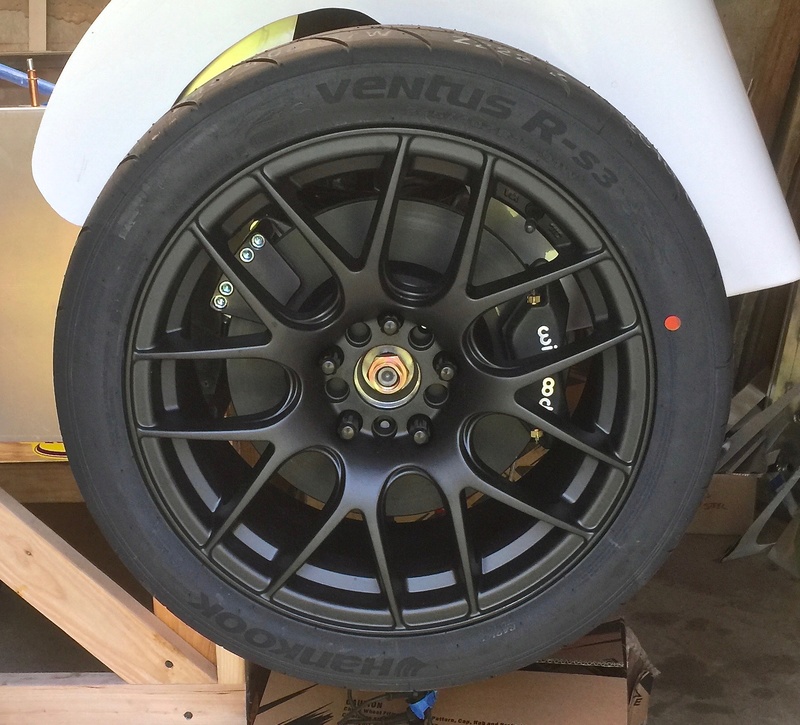 Rear driver's side wheel bolted on so I can check clearances. Things are tight between the tire and the fiberglass but it has worked out fine. The R-S3's have a slightly larger section width (9.8") than the R1R's but not enough to materially affect the clearance.
In fitting these wheels I found that I must have mis-measured for the hub centric rings in front. They were an odd intermediate size and are off just enough that they won't fit on the hub. I put the front wheels on minus the rings for now. Also found that the splined socket I ordered for the front lug nuts is the wrong size. D'oh.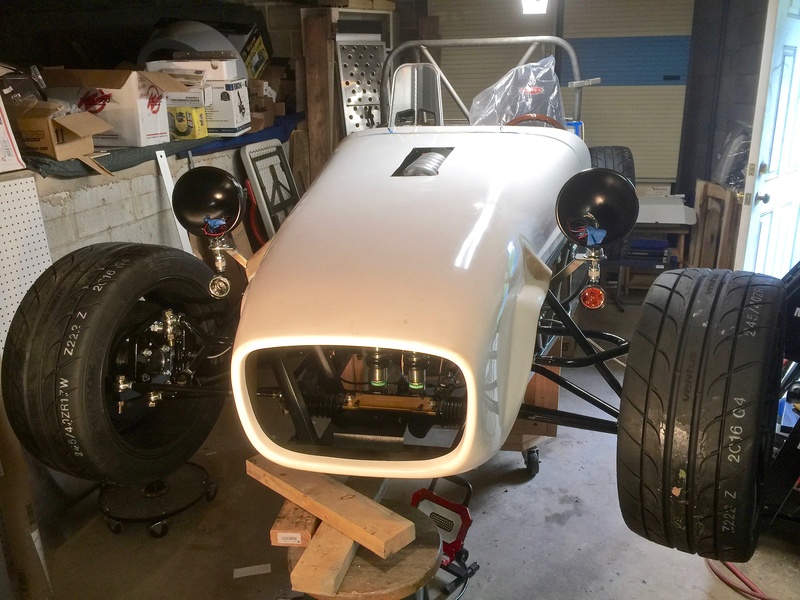 Funny how having wheels and tires on the car makes it feel so much more substantial. I had to see how it looked with the hood as well just for the hell of it.
Technically I could stand the car on its own four feet and roll it around at this point. That feels like progress - but there are other things to do first.
-Dave

_________________
2015 Stalker Classic R/L26 in progress
2010 Triumph Bonneville T100
1977 MGB
1973 Norton Commando MkII Interstate
1966 SWB Land Rover Series 2A
1960 Hammond A100
1949 Ford 8N



Posts

: 168


Join date

: 2015-10-07


Location

: New Hope, PA




---
Permissions in this forum:
You
cannot
reply to topics in this forum